All Star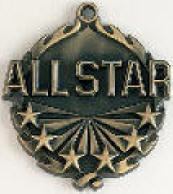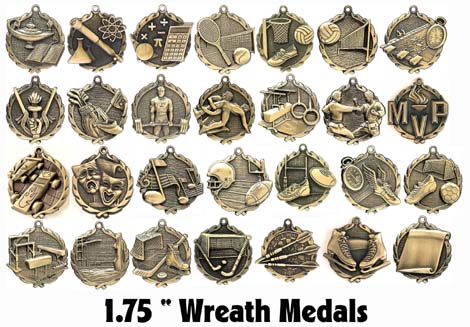 1.75" Medal Pricing
1-100 – 1.65 ea.
101-500 – 1.55 ea.
500+ - 1.45 ea.

For and engraved plate on back add .25

Price includes choice of neck ribbon or pin drape.
These medals come in the following sports, if you do not see the picture above please email us and we will be happy to email you the image of the specific sport you are looking for.
All-Star
Australian Rules
Archery
Baseball
Softball
Basketball
Bible Cross
Beauty Queen
BMX Racing
M. Body Builder
F. Body Builder
Bowling
Boxing
Cheerleader
Cricket
M. X-Country
F. X-Country
Dart
Diving
Drama
Field Hockey
Football
Golf
M. Gymnastics
F. Gymnastics
M. High Jump
F. High Jump
Hockey
M. Hurdles
F. Hurdles
Ice Skating
M. Javelin
F. Javelin
Karate
Knowledge
M. Long Jump
F. Long Jump
Math w/Calculator
Music
MVP
Netball
Pinewood Derby
M. Pole Vault
F. Pole Vault
M. Relay
F. Relay
Rugby
Science
Soccer
Swimming
Tennis
Track
Triathlon
Victory
Volleyball
Weightlifting
Wrestling